Toyota's Takata Recalls
Parts supplier, Takata, manufactured defective, shrapnel-hurling airbag inflators that need to be recalled. The issue affects 34 million+ vehicles spread out across 24 brands, making it one of the largest (and most dangerous) recalls in automotive history.
The propellent Takata used is exploding with such force that it's ripping the inflators into tiny metal fragments and shooting them in the direction of vehicle occupants. To make matters worse, the inflators are exploding in low-speed accidents with very little impact.
---
Which Toyota Vehicles Have Been Recalled?
| Make | Model | Years | Limited To |
| --- | --- | --- | --- |
| Toyota | 4Runner | 2010-2011 | Zone A |
|   | Corolla | 2003-2011 |   |
|   |   | 2009-2011 | Zone A |
|   | Matrix | 2003-2011 |   |
|   |   | 2009-2011 | Zone A |
|   | RAV4 | 2004-2005 |   |
|   | Sequoia | 2002-2007 |   |
|   | Sienna | 2011 | Zone A |
|   | Tundra | 2003-2006 |   |
|   | Yaris | 2006-2011 | Zone A |
|   |   | 2007-2008 | Zone B |
Toyota is part of the same automotive family as Scion and Lexus, who also have Takata recalls.
What are Zones?
Some Takata recalls are being broken down into what NHTSA calls "zones". A zone is a group of states and territories where a vehicle was originally sold or registered at some point in time. A few notes about zones:
A vehicle can be recalled in more than one zone.
When no zone is defined, the recall was more widespread. Possibly internationally.
If you find this all very confusing, you're not alone my friend.
So, here we go:
Zone A: Alabama, California, Florida, Georgia, Hawaii, Louisiana, Mississippi, South Carolina, Texas, Puerto Rico, American Samoa, Guam, the Northern Mariana Islands (Saipan) and the U.S. Virgin Islands.
Zone B: Arizona, Arkansas, Delaware, District of Columbia, Illinois, Indiana, Kansas, Kentucky, Maryland, Missouri, Nebraska, Nevada, New Jersey, New Mexico, North Carolina, Ohio, Oklahoma, Pennsylvania, Tennessee, Virginia and West Virginia.
Zone C: Alaska, Colorado, Connecticut, Idaho, Iowa, Maine, Massachusetts, Michigan, Minnesota, Montana, New Hampshire, New York, North Dakota, Oregon, Rhode Island, South Dakota, Utah, Vermont, Washington, Wisconsin and Wyoming.
Take Action
Takata inflators have been linked to 11 deaths in the USA, so far.
Owners of these vehicles are urged to call the National Highway Traffic Safety Administration (NHTSA) safety hotline at 1-888-327-4236 or lookup your VIN (vehicle identification number).
"Consumers that are uncertain whether their vehicle is impacted by the Takata recalls, or any other recall, can contact their manufacturer's website to search, by their vehicle identification number (VIN) to confirm whether their individual vehicle has an open recall that needs to be addressed."
---
Takata News and Notes
Toyota says Takata passenger frontal airbags are dangerous and need replaced in 1.6 million cars. The move isn't unexpected after the National Highway Traffic Safety Administration (NHTSA) announced 35-40 million additional Takata airbags would be recalled in the U.S.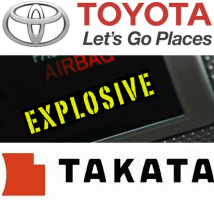 Takata airbags have taken another toll on Toyota as the automaker announces the expansion of two recalls involving front passenger airbag inflators.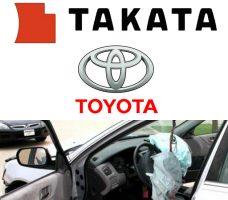 The Takata airbag death toll increased by one as the National Highway Traffic Safety Administration (NHTSA) announced another death from an exploding Takata airbag inflator.