Hands-Free Calls Are Unusable Due to Echo Defect
Posted on

Tagged
Key Points
Users complain about echoing voices while making hands-free calls in 2016-2019 Toyota vehicles.
Toyota has released tips to reduce the echo which require the user pickup their phone after each call is initiated to check the phone volume.
The issue has disappeared in some 2019 models and all 2020 models with Apply CarPlay and Android Auto as standard features.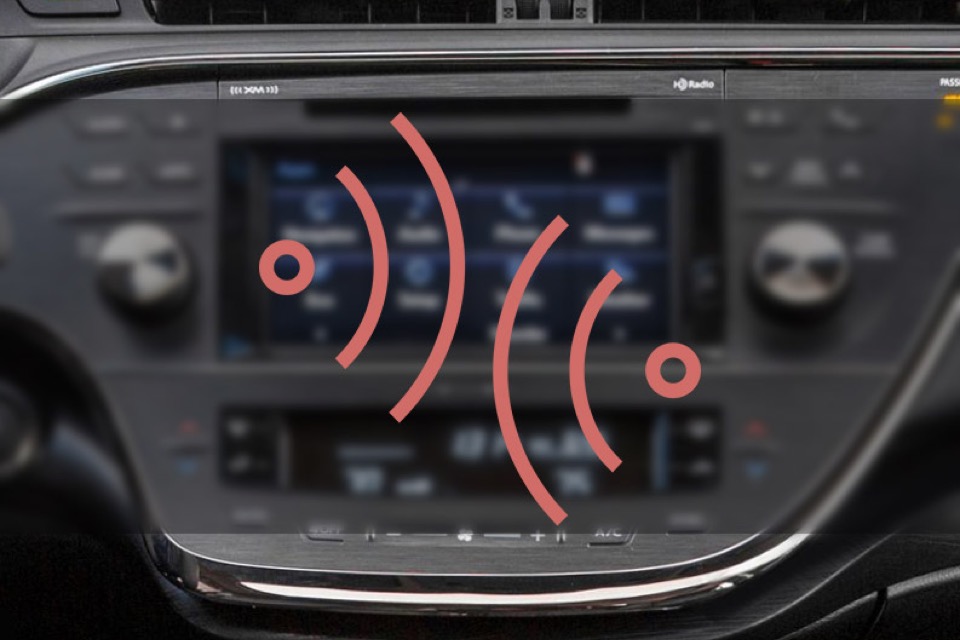 Toyota's hands-free calling feature is virtually unusable in most 2019 and older models because of an annoying echo. Owners say the problem is consistent, severe, and happens regardless if they make or receive calls.
The automaker has suggested owners turn the volume on their phone all the way up after a call is started, which sort of takes away from the whole hands-free safety thing. Meanwhile complaints about the problem have virtually disappeared in some 2019 and all 2020+ head units with Apple CarPlay and Android Auto as standard features. Suggesting that the problem is Toyota's own software and Bluetooth implementation.
Toyota Says to Adjust the Volume ∞
Toyota has bee referencing echoing issues in owners manuals dating back to 2010, but complaints have spiked in the 2016-2018 model years. It suggests that owners rightfully expect their cars to handle basic tech tasks like hands-free calls in 2021.
In March 2018 Toyota released a "tech tip" titled Bluetooth Hands-Free Call Echo. They told owners that after initiating a call they should turn the volume on their phone all the way up and turn the volume on the head unit down below 45.
Because nothing says "hand-free" safety quite like fiddling with your phone and volume nob while driving.
The tip applied to the following vehicles:
2016-2018 Toyota Highlander
2017-2018 Toyota Avalon
2016-2018 Toyota Sienna
2016-2018 Toyota Prius v
2016-2018 Toyota Tacoma
2016-2018 Toyota Sequoia
2016-2018 Toyota Prius
2016-2018 Toyota Tundra
2017-2018 Toyota Avalon Hybrid
2018 Toyota Yaris
2017-2018 Toyota 4Runner
2016-2018 Toyota Highlander Hybrid
The list was later expanded in tech tip T-TT-0600-20 to add the 2019 model years of the 4Runner, Highlander, Highlander Hybrid, Tacoma, Tundra, Sienna, and Sequoia.
Toyota also notes that these settings may need to be reapplied any time the phone is paired to a new head unit, a phone update is applied, or the phone is unpaired and re-paired.
Lawsuits Say the Echo Is Unsafe ∞
Following years of complaints and less-than-amazing "tech tips", lawsuits were filed that have accurately pointed out that:
Toyota's suggestions mean the system isn't really "hands-free" at all because the driver would therefore have to find the phone, pick it up and adjust the volume while driving, resulting in a dangerous distraction.
Toyota's tech tips also don't do anything to fix the underlying problem.
Newer units that give users the option to use Apple CarPlay or Android Auto don't have this problem, even though the head unit is the same.
Service bulletin offered some users new head units ∞
In fact a 2017 service bulletin #T-SB-0322-17 appears to be the only time Toyota actually tried to fix the issue.
For 2018 Camry and Camry Hybrid owners, Toyota offered to replace the head units in cars where the user experienced Bluetooth echo in the Panasonic head units equipped with JBL and that updated head units are available through the exchange program to address this condition.
Lawsuits Regarding This Problem
Lawsuits about this problem have already been filed in court. Many times these are class-action suits that look to cover a group of owners in a particular area. Click on the lawsuit for more information and to see if you're eligible to receive any potential settlements.
A Toyota Bluetooth echo class action lawsuit has been filed by an Illinois law firm which alleges the hands-free phone systems are defective in multiple Toyota models that were not initially equipped with Apple CarPlay and have not had a head unit replaced by Toyota.

Toyota Bluetooth echo problems have caused a class action lawsuit that alleges when the driver of the Toyota uses the hands-free phone system to make or receive a call, the person on the other end of the call hears an echo of their own words.
Generations Where This Problem Has Been Reported
This problem has popped up in the following Toyota generations.

Most years within a generation share the same parts and manufacturing process. You can also expect them to share the same problems. So while it may not be a problem in every year yet, it's worth looking out for.
What Owners Say About This Problem
New car. Wife uses for business, so echo a very serious and annoying problem. Toyota dealership has opened a case with Toyota. Attempted to adjust microphone sensitivity. Don't know cause of echo feedback. Suggest it is Apple IPhone X problem. Not so. Same phone worked with previous 2014 Avalon Hybrid Limited, previous 2015 RAV4 Limited and new 2018 RAV4 Hybrid Limited.
When speaking to someone on the phone using the bluetooth connection in the car, the person you're speaking with hears their own voice echo back to them. I drive often for work and am frequently on the phone. It's extremely annoying for whomever you're speaking with on the phone.
The Bluetooth in this car for phone calls is unusable. The caller on the other end says it echoes awful and I have to call them using the speaker on my phone. I have read TONS of postings about this online - no one seems to know how to fix it but a lot of people have it. I have tried all the posted suggestions but nothing fixes it.
OK, Now What?
Maybe you've experienced this problem. Maybe you're concerned you will soon. Whatever the reason, here's a handful of things you can do to make sure it gets the attention it deserves.
File Your Complaint

CarComplaints.com is a free site dedicated to uncovering problem trends and informing owners about potential issues with their cars. Major class action law firms use this data when researching cases.

Add a Complaint

Notify CAS

The Center for Auto Safety (CAS) is a pro-consumer organization that researches auto safety issues & often compels the US government to do the right thing through lobbying & lawsuits.

Notify The CAS

Report a Safety Concern

The National Highway Traffic Safety Administration (NHTSA) is the US agency with the authority to conduct vehicle defect investigations & force recalls. Their focus is on safety-related issues.

Report to NHTSA