Toyota Has a Consumption Problem Whether They Want to Admit it or Not
Key Points
Defective piston rings are causing Toyota engines to burn through an excessive amount of oil.
Toyota says that burning through a quart of oil every 1,200 miles is "normal."
A 2011 TSB says oil problems in the 2AZ-FE engine can be fixed under warranty after a test.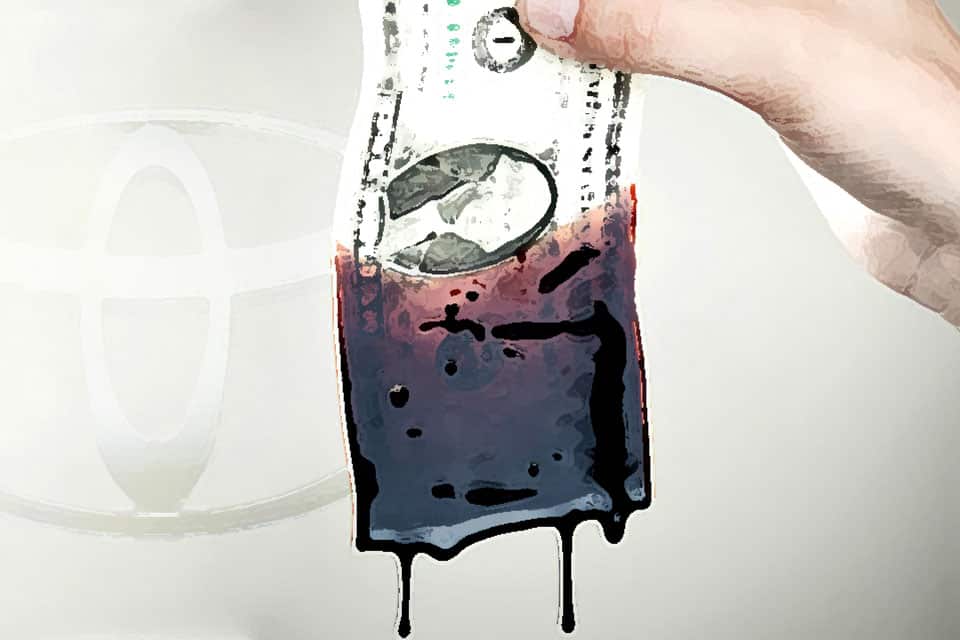 An increasing number of Toyota vehicles are experiencing excessive oil consumption which may be the result of defective piston rings. Toyota, in all their 'deny-til-we-die' splendor, is reportedly denying warranty coverage on many oil consumption related problems and telling owners that burning through oil is normal. Burning the midnight oil in college? That's normal. Burning through a quart of oil in 1,200 miles? Not so much, at least in our book.
Just How Much Oil Are We Talking About Here? ∞
Even the most judicious oil-changers are reporting issues that probably shouldn't happen. Things like:
Having your "oil pressure" light come on halfway through your maintenance schedule.
Having you engine burn through as much as 1 quart of oil in 1,200 miles
Being told that your engine burning through oil is "normal" and "nothing to be alarmed of"
Having to come back with a damaged, oil-deprived engine only to be denied warranty coverage
Guess which of these is happening to Toyota owners? Go on, I'll give you a minute. (Hint: this is a multi-choice test)
If you guessed all of them, you're absolutely right.
Toyota Issues a TSB ∞
On August 11, 2011, Toyota issued a technical service bulletin (TSB)[1] to dealerships which says:
Some 2006 – 2011 model year vehicles equipped with the 2AZ-FE engine may exhibit engine oil consumption. The piston assembly has been changed to minimize oil consumption." And that "P030# (cylinder # misfire detected) DTC may also be set as a result of oil consumption.
Unlike a recall, a TSB is basically a set of instructions given to dealership mechanics on repair procedures and warranty information. In this case Toyota says repairs should be covered under the standard Toyota Powertrain Warranty (60 months / 60k miles), but only after a test. The dealer is told to confirm the engine's oil level, mark the dipstick and then advise the customer to drive for 1,200 miles before returning for an inspection. At that time, only engines that are more than 1 quart low will have their warranties honored.
So what about those that are outside the standard powertrain warranty or fail the test? They're left to pick up the bill which can be thousands of dollars. Take it from these folks on CarComplaints.com:
So after loving my Toyota for many happy years imagine my heartache when it began using oil to the tune of visible loss on dipstick at <100 miles. Having always prided myself on taking car maintenance very seriously and never owning a vehicle less than a decade this one is a total disappointment -scaredgrammy in Dry Ridge, KY
At some point around 100,000 miles I was shocked to find little or no oil on the dip stick so I started watching it closely. The car no has 149,000 miles on it and burns a bit more then 1 quart every 1200 miles. This just happens to be the amount that Toyota calls a problem and excessive, BUT our car is out of warranty. Amazing two weeks ago I ask the Toyota service manager about it and he said he never has heard of this ... That is a totally false statement since there is a TS bulletin about this problem! Toyota's engineers made an error with the design of the pistons. -pstef in Newton Falls, OH
Vehicles with Oil Consumption Problems ∞
Take a moment to browse through the Toyota section of CarComplaints.com and you'll see just how many people have reported problems with the oil consumption in their engines, including Camry, Corolla, Matrix, RAV4 and Solara owners. This problem also extends to some Scion vehicles, which is one of Toyota's brands.
---
Lawsuits Regarding This Problem
Lawsuits about this problem have already been filed in court. Many times these are class-action suits that look to cover a group of owners in a particular area. Click on the lawsuit for more information and to see if you're eligible to receive any potential settlements.
A Toyota RAV4 oil consumption lawsuit alleges RAV4 owners must constantly spend money on oil due to a defect in the engine. The plaintiffs claim 2006-2008 Toyota RAV4 SUVs have engines that consume 1-quart of oil every 1,200 mile, a problem that grows worst as the vehicles get older.
Generations Where This Problem Has Been Reported
This problem has popped up in the following Toyota generations.

Most years within a generation share the same parts and manufacturing process. You can also expect them to share the same problems. So while it may not be a problem in every year yet, it's worth looking out for.
Further Reading
A timeline of stories related to this problem. We try to boil these stories down to the most important bits so you can quickly see where things stand. Interested in getting these stories in an email? Signup for free email alerts for your vehicle over at CarComplaints.com.
Have you checked your RAV4's oil level lately? As in, this week? Seriously ... there's a chance it's incredibly low.

A new lawsuit says that the 2006-2008 model years have a nasty habit of chugging oil at the rate of 1-quart per 1,200 miles. That's just a tad bit off the 1-quart per 5,000 miles Toyota recommends for maintaining the engine's warranty. It's easy to see why you might be confused when the "CHECK ENGINE OIL" light comes on 3,800 miles early. It's also easy to see why you might be more confused when your Toyota dealer says its normal.

The lawsuit says Toyota dealers are being told to repair the engine, under warranty, if the consumer complains enough and their vehicle fails a test. However, consumers aren't being told the problem exists. So is it up to the owner to ask for repairs? Should Toyota be forced to repair all the defective engines? Is this just a ploy from the *United Auto Engine Oil Maker's Alliance?

*not a real agency ... we think

keep reading

article "RAV4 Oil Consumption Lawsuit Filed in Illinois"
OK, Now What?
Maybe you've experienced this problem. Maybe you're concerned you will soon. Whatever the reason, here's a handful of things you can do to make sure it gets the attention it deserves.
File Your Complaint

CarComplaints.com is a free site dedicated to uncovering problem trends and informing owners about potential issues with their cars. Major class action law firms use this data when researching cases.

Add a Complaint

Notify CAS

The Center for Auto Safety (CAS) is a pro-consumer organization that researches auto safety issues & often compels the US government to do the right thing through lobbying & lawsuits.

Notify The CAS

Report a Safety Concern

The National Highway Traffic Safety Administration (NHTSA) is the US agency with the authority to conduct vehicle defect investigations & force recalls. Their focus is on safety-related issues.

Report to NHTSA