An Electrical Short Can Cause a Sudden Loss of Power and Battery Fires in the 2013-2018 RAV4
Posted on

Tagged
Key Points
Sudden electrical loss and battery fires are being investigated in the 4th generation RAV4.
The SUV's 12-volt battery is experiencing electrical shorts when the positive battery terminal comes in contact with the battery's hold-down frame.
Toyota has been sued for allegedly concealing the problem for years.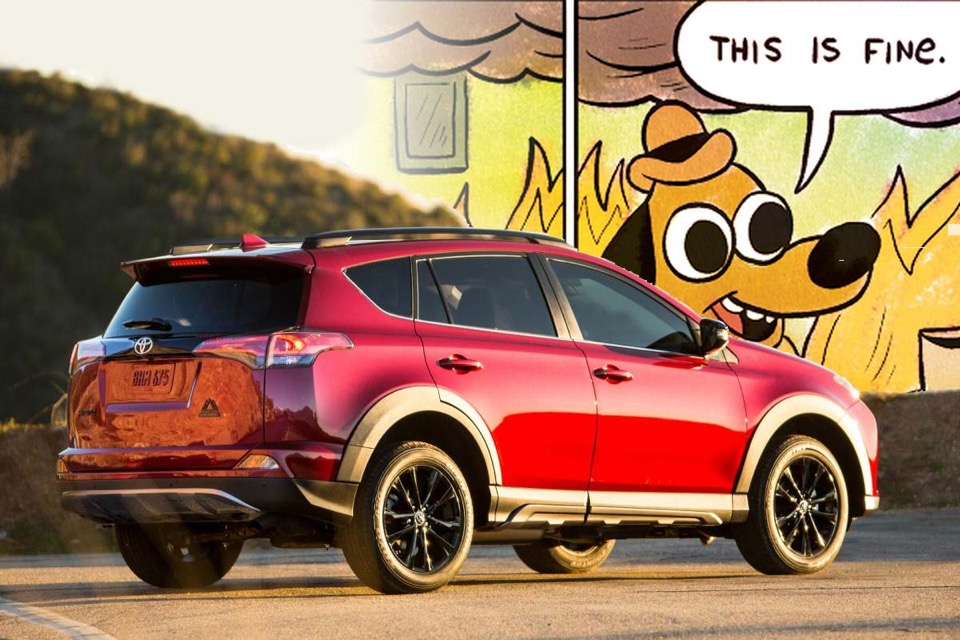 The 2013-2018 RAV4 is being investigated for a potential battery defect that can cause the SUV to lose all of its electrical power and, in some cases, start an engine compartment fire.
The National Highway Traffic Safety Administration (NHTSA) is particularly concerned with what they like to call thermal incidents. Otherwise known as fires. NHTSA has received 11 complaints that led to fires, with 7 of those incidents happening while the vehicle was moving. In some cases, the vehicle started out before bursting into flames.
Why the Battery Shorts Out ∞
There appears to be an electrical short when the positive terminal of the 12-volt battery comes in contact with the battery's hold-down frame. That short is capable of shutting down the whole car's electrical system.
The RAV4 is a very popular SUV and the investigation covers 1.9 million vehicles. You might be thinking 11 fires doesn't sound that bad, but the agency is quick to point out that the overall number of vehicle fire allegations with the battery as the area of origin is larger than in other similar vehicles.
And there's not much consistency. One owner said they noticed sparks and glowing embers dropping to the ground from inside the left front wheel area while returning from prepaying for gas. Another said they were driving on the interstate entrance ramp when the battery died but then I was able to start it back and drove just a short distance when the hood started smoking.
Both cases sound terrifying.
Who's to Blame? ∞
NHTSA believes some of the complained about vehicles had previously been repaired after a front-end collision, so they're also investigating whether improper battery installation or shoddy collision repair could be to blame for this issue.
Meanwhile, a class-action lawsuit believes Toyota has concealed the alleged battery problems for years which has caused the RAV4s to diminish in value.
Lawsuits Regarding This Problem
Lawsuits about this problem have already been filed in court. Many times these are class-action suits that look to cover a group of owners in a particular area. Click on the lawsuit for more information and to see if you're eligible to receive any potential settlements.
The plaintiffs allege a battery defect causes RAV4 to lose electrical power, stall and catch fire. The class action lawsuit says the 2013-2018 SUVs have defects in the 12-volt B+ terminals which suffer electrical shorts to the frames that hold down the batteries.
Generations Where This Problem Has Been Reported
This problem has popped up in the following Toyota generations.

Most years within a generation share the same parts and manufacturing process. You can also expect them to share the same problems. So while it may not be a problem in every year yet, it's worth looking out for.
4th Generation RAV4

Years

2013–2018

Reliability

74th out of 81

PainRank™

22.01

Complaints

366

Learn more about the 4th Generation RAV4
OK, Now What?
Maybe you've experienced this problem. Maybe you're concerned you will soon. Whatever the reason, here's a handful of things you can do to make sure it gets the attention it deserves.
File Your Complaint

CarComplaints.com is a free site dedicated to uncovering problem trends and informing owners about potential issues with their cars. Major class action law firms use this data when researching cases.

Add a Complaint

Notify CAS

The Center for Auto Safety (CAS) is a pro-consumer organization that researches auto safety issues & often compels the US government to do the right thing through lobbying & lawsuits.

Notify The CAS

Report a Safety Concern

The National Highway Traffic Safety Administration (NHTSA) is the US agency with the authority to conduct vehicle defect investigations & force recalls. Their focus is on safety-related issues.

Report to NHTSA